Ocean View Tourist Guesthouse
Negombo - Sri Lanka
Our Ocean View Tourist Guesthouse is a modern guesthouse conveniently located 1 km from Negombo city centre,12 km from the Colombo international airport and 100 meters to Negombo beach.
The Ocean View Guesthouse is the prime location in Sri Lanka to arrive and stay after a long flight, you can reach us within 20 minutes any time of the day.
The Ocean View Guesthouse is the most convenient place to stay when you are leaving Sri Lanka, too.
Since 1978 we have served thousands of visitors who visited Sri Lanka. A fact which is highlighted in the recommendations for the Ocean View Guesthouse in many most circulated guide books like the Lonely Planet, Rough Guide, Foot Print, Guide du Routard and Japanese guide books.
****** Please Note ******
In Negombo there are some other places using our name OCEAN VIEW for hotels and restaurants.
We have no branches anywhere in Negombo.
Our place is
OCEAN VIEW GUEST HOUSE
122, LEWIS PLACE,
NEGOMBO,SRI LANKA.
TEL: 0094312238689 (call only) / 0094777856085 (call/text)
oceanviewgh@sltnet.lk




Rooms

We offer three different types of rooms, accommodating individual travelers, back packers, budget tourists and families alike. Taking care of all needs and budgets.more...
Tours

Our experience since 1978 enables us to provide you with day trips, tours and excursion tailor-made tours to your expectations and taste.more...
Services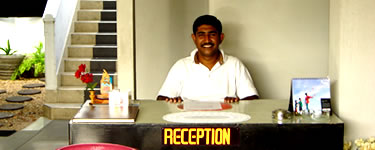 We at the Ocean View Guesthouse will do everything to make your stay enjoyable. Please don't hesitate to ask for our help and support.more...
Sri Lanka Information

Ever since the very early days of travel, Sri Lanka has been known as one of the worlds most beautiful and diverse exotic holiday destinations.more...
Recommended by: