Round Tour (8 days/ 7 nights)
Common tour
Day 1, Negombo-Anuradhapura.
Start at 8.30 am from Negombo. On the way through coconut plantations, Roofing tile factories and stop in Marawila to see the toddy tapping and reach Chilaw visit the fish market and the fisher harbor and through Puttalam reach Anuradhapura.
3pm start the city tour of ancient city (This is the 1st ancient Capital of Sri Lanka, 3rd century B.C to 10th century A.D). Visit Sri maha bodhi ( The oldest tree in the world with a written history and it is a sapling from the original tree which the Buddha attained enlighten under it), The brazen palace, Ruwanveli seya dagoba (The biggest dagoba in Sri Lanka), Thuparama dagoba (oldest dagoba built in the 3rd century B.C, and the right color borne of Buddha is deposited), Lankarama dagoba, Elephant pond, Abhayagiriya monastery complex, World famous Samadhi Buddha statue, Twin ponds, The finest stone carving and the meaning of the Moonstone, The guard stone , Jethavanarama dagoba and museum and Isurumuniya temple (Stone carving of the Sri Lankan Romeo & Juliet). After visiting the city back to guest house.
Overnight stay in Anuradhapura.
Day 2, Anuradhapura-Sigiriya.
In the morning after breakfast proceed to Mihintale.Visit Mihintale monastery complex built in the 3rd century B.C, (The place where Buddhism was established for the first time in sri lanka), Ruins of an Ancient hospital, Refectory hall, Lion pond, Cobra pond, Ambastale, and Mihindu cave and proceed to Aukana to see the highest Buddha statue in Sri Lanka, this was built in one piece of granite 13 meters in height built in the 5th century A.D. This statue was built by King Datusena while he was building the gigantic reservoir called Kala wewa. After visiting Aukana then proceed to Sigiriya.
Overnight stay in Sigiriya.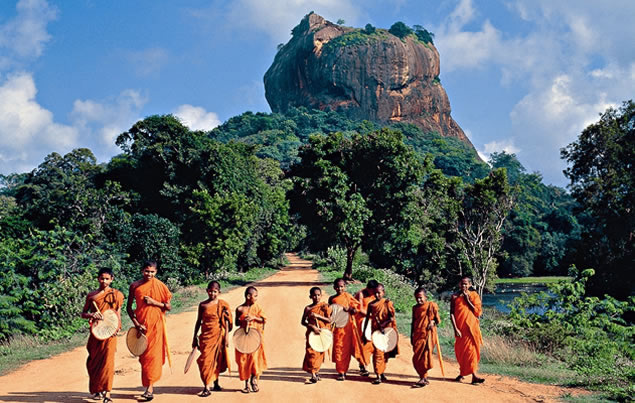 Day 3, Sigiriya-Polonnaruwa.
Start 8:30 am
After breakfast drive towards Polonnaruwa and Visit Polonnaruwa ancient city (10th-12th century A.D), The modern meuseum,parakrama Samudra (Gigantic reservoir made by king Parakrama the great), Statue of king Parakrama, Library shrine, Palace of king Parakramabahu, The council chamber, The kumara Pokuna (pond used by royal family with the water flowing system), Shiva temple, Thuparama shrine room and the glittering statues, Atadage,Hetadage, Vatadage, Stone book, Rankoth Vehera, Alahana monastery complex, Gal Vihare (Master piece of stone carving), Thivanka image house, Lotus pond and proceed to Habarana. Elephant safari in Minneriya or Kaudulla national park and proceed to Sigiriya.
Overnight stay in Sigiriya.
Day 4, Sigiriya-Kandy.
Early in the morning at 7am before it gets too hot proceed to Sigiriya. Climb Sigiriya rock fortress built in the 5th century A.D by king Kasyapa who was a patricide(Sigiriya Claimed as the 8th wonder in the world), see the water garden, bolder garden, world famous Paintings, Mirror wall, Lion's paws, The swimming pool on top and back to guest house to have breakfast. After breakfast proceed to Dambulla and visit Dambulla cave temples (Built by king Walagamba in the 1st century B.C with 22000 square feet's of ceiling paintings and lot of different statues), then visit Nalande gedige (Temple built in the geographical Centre of Sri Lanka), Then in Matale Aluvihare cave temple (Where Buddhism brought into book form in the 1st century B.C) Then visit a herbal garden and proceed to Kandy.
Overnight stay in Kandy.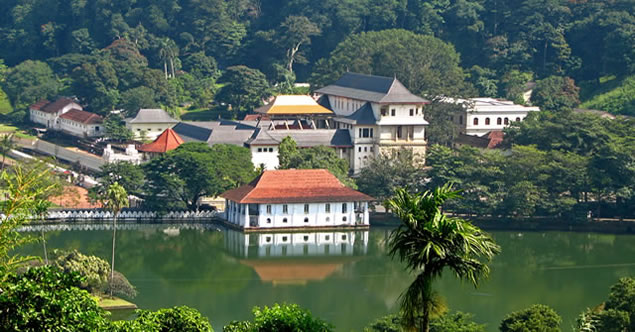 Day 5, Kandy.
After breakfast In the morning visit upper lake view point and then the Botanical garden (best garden in Asia), visit Kandy city do some shopping walk around the lake and in the evening see the cultural show and the temple of the tooth relic of Buddha at 7.15 pm ceremony time.
Overnight stay in Kandy.
Day 6, Kandy-Nuwaraeliya.
Start 8:30 am and On the way plenty of pictures of the tea plantations and ladies picking tea leafs and a tea factory to see the process, and through Ramboda waterfalls, proceed to Nuwaraeliya. Visit Nuwaraeliya city so called little England, English planters city), colonial hotels, Race course, Golf links, The post office building, do some walking around the city and reach the guest house.
Overnight stay in Nuwaraeliya.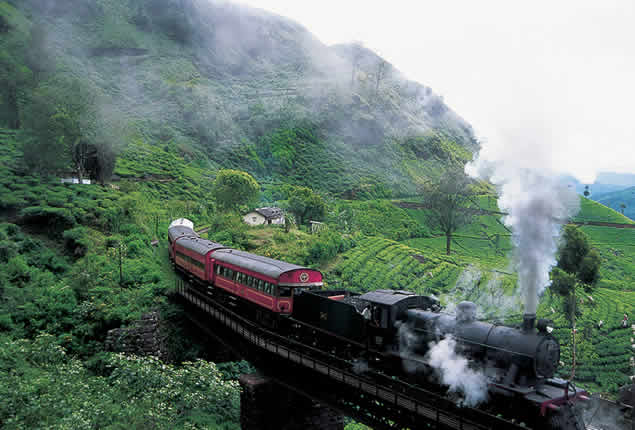 Day 7, Nuwaraeliya-Ella.
Start in the morning from hotel after breakfast Visit Nuwaraeliya city and then drive to Nanu-oya to take the scenic train journey to Ella. The driver will drop you in Nanu-oya station and collect you at Ella station.
Overnight stay in Ella.

Day 8, Ella- Tangalle.
In the morning before leaving Ella, climb little Adam's peak watch the magnificent view of Ella valley , Nine arch bridge and then Rawana waterfalls and then in Wellawaya manual pottery manufacturer to see how they do the molding by hand and through Tanamalwila and passing Udawalawe national park area proceed to Tangalle beach and drop you to the hotel you booked and end the tour.

This tour is available with guesthouse-, standard- or luxury accommodation. For details and reservation please click here...
This tour is good during the months of December to April. If you are interested in an uncommon tour do write to us.